I've been busy updating my guest bedroom with that lovely Mint Blue + Gold color combo I've been so attracted to lately. See the inspiration board here. Its coming along! The paint is finished, the furniture is back in and I'm ready to add decor. The room NEVER feels finished without decor so I'm looking forward to adding the special touches to make the room really feel complete.
A big part of the "jewelry" of the room is ALWAYS the lighting. It is what adds ambience, sparkle, and texture to the space. For this room, I am in search of a small scale brassy/gold sconce to flank the upholstered bed. Its a small room, so it needs to fit! Here are some options I've come up with: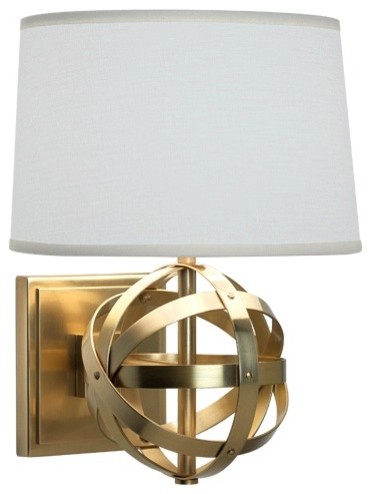 I'm thrilled at how many there are to choose from, AND that most are a reasonable price. I'll post pictures with the final choice!